Have a company blog? Market it with Blog Engage RSS Service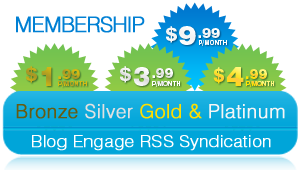 When trying to market your company blog you have to look for a community with real members that would be interested in your products or services. You have to look for a marketing strategy that will give you a good return on investment and generate your blog traffic.
The traffic generated to your blog should be coming from two directions and that's Search Engines and Direct Traffic. One community that can solve your needs when it comes to marketing your company blog and that's Blog Engage. Blog Engage offers a unique opportunity for you to market with your blog to thousands of other bloggers while at the same time increasing your search engine ranking positioning.
Building Backlinks
You might be asking how Blog Engage would help increase both your direct traffic an search engine traffic? Blog Engage actually syndicates your blogging contest into their portfolio of social networks such as Blog Engage, Blog Serp, Top Blogged, RSS Leak, Blogger Ink and Blogger Tag.
All of these websites are DO Follow meaning they pass their page rank juice right to your article and over time Google ranks your target keywords and articles higher because you have increased the amount of backlinks that are linking to your blog articles.
Contest Sponsorship
All Business, Platinum and Gold Membership Customers are included as a "Sponsor" in all of Blog Engages Guest Blogging Contests. As their contests grow so do the contestants entering and participating. This year in 2011 Blog Engage will be giving away a total of 3000 USD.
Sponsored Reviews
Their contestants are given bonus points for writing individualized sponsor reviews, these would be reviews of you the RSS Customers. As the contestants battle for first place writing the sponsored review is very important to becoming a winner. Therefor this will increase the amount of blacklinks to your website and again will increase your search engine ranking positioning for target keywords.
Twitter and Facebook
The Blog Engage RSS Service also automatically tweets your published articles to all of @bbrian017's 2500 followers. Your Published content will also be shared with our facebook fan group Blog Engage with over 450 friends.
Be sure to add me as a friend, bbrian017
Twitter, bbrian017
Thanks,
Brian