What separates blog engage from the rest?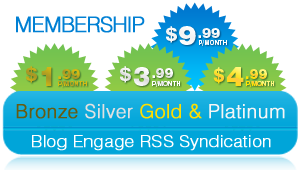 I've owned Blog Engage now for over three years and one of the biggest beliefs I have is to do on to others socially what you would like them to do on to you.
Blog Engage has a very unique policy that requires all members of the community to Vote, Tweet, Stumble and Digg when they can. See this was the point of starting Blog Engage three years ago. I wanted to create an environment where bloggers could meet one another, socially share and benefit each other in the blogosphere.
Creating this environment hasn't been the easiest task because if you haven't noticed many people are only worried about their own success and don't care about what others need or want. This exact statement is what makes Blog Engage different then all other social communities.
When submitting your content to the Blog Engage community make sure to visit some of the upcoming pages and vote for other bloggers. Engage with them and visit their blogging websites. Build relationships with these bloggers and they will turn into blog readers.
After reading this article will you take the time to vote and engage with other bloggers within our social community? Leave your feedback and let me know if you already do! I would love to hear your thoughts on our communities minimum expectations. Suggestion are always welcomed as well.
Be sure to add me as a friend, bbrian017
Twitter, bbrian017
Thanks,
Brian