How to promote the Blog Engage RSS Service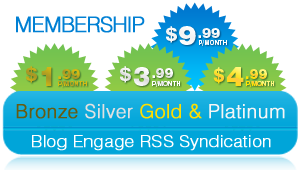 I've had many questions from online friends on how they could successfully promote and sell the blog engage RSS Service. For that reason I'm going to compile this article that will demonstrate how to sell the RSS Service and promote it on your blog.
First you have to sign up at Affiliate Lights. this is owned by me and what I'm using to track the earnings of all our Blog Engage affiliates. the process is extremely easy, you sign up, loging and add the banners to your blog website.
make sure to add your ads in your post content, sidebars and anywhere else you want it to be shown. If you make little or no money with Google then replace the Google ad spot. The Blog engage RSS Service is growing so fast and I truly believe you will have success with our company.
Second and maybe most important you have to read the products page! clearly. This page will give you all the benefits and features offered by the Blog engage RSS Service. Please read the page twice, wait 24 hours and then read it again. Understanding the products is most important to learning how to sell. it.
Be unique, take these ideas and come up with your own selling pitched to why the RSS Service is beneficial. Most of you have been members of Blog Engage so you all know the benefits of using our community let alone the back links from our other sites.
Let's discuss the basic idea of the Blog Engage RSS Service. We will automatically syndicated a bloggers content into our community to be seen by all our members. Also the bloggers content will be syndicated to our portfolio of social media websites such as blogserp, bloggerink, topblogged and bloggertag.
What are the benefits to the service?
With the Blog Engage RSS Membership you get the opportunity to earn with all your blog article submissions as we are a Google Adsense Revenue Sharing Community. On all your syndicated story pages your Google Ads will be displayed when visited from any Blog Engage members or search engine traffic.
1. Google Adsense Revenue Sharing.
2. Automatic submission of all future blog articles.
3. Automatically fills in the title, description and tags.
4. Automatic hourly or daily updates searching for your blogs new content.
5. Automatically submit one or multiple articles per RSS Feed Update.
6. One free vote with all RSS Feed articles submissions.
7. Do follow backlinks from every submitted blog article.
8. Create your blog profile and start building brand awareness immediately.
Facebook and Twitter marketing
When submitting your content to Blog Engage using our RSS Service your published articles will also be tweeted from the @bbrian017 account to all it's 2500 followers. When submitting your content to Blog Engage using our RSS Service your published articles will also be sent to fabebook from the Blog Engage account to all it's 350 friends.
SEO and Other Benefits:
1. Automatically create do follow backlinks for every article you write.
2. Increase your SERP on all Search Engines.
3. Grow your reader base with our real community members.
4. Increase your overall blog traffic.
5. Gain more readers for your blogs content.
If your interested in helping us promote the service and earning 25 recurring comissions make sure to sign up at Affiliate Lights to start earning.
Article References
Join the Blog Engage Affiliate Lights Program
Affiliate Lights and Blog Engage 10 USD Special Bonus Offer
Sell Blog Engage RSS Syndication Service Through Blog Engage Affiliate Program and Make Money Online
Six Sales with Affiliate Lights and Blog Engage
Adsense BlogEngage and RSS Syndication
HOT NEWS: Earn Some Money With BlogEngage Syndication And Blog Serp
Recurring Commissions with Affiliate Lights
Blog Engage Offers Premium RSS Syndication
Earning Money with Blog Engage Syndication
Be sure to add me as a friend, bbrian017
Subscribe to my blog as well
Twitter, bbrian017
Thanks,
Brian