Join the blog engage affiliate program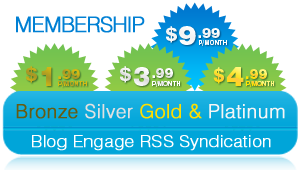 I've created and launched an affiliate website to help promote the blog engage rss subscription service. Too date it's been extremely successful with little or no marketing. Currently I have over 35 paying customers and I need your help to grow the list.
If interested in helping me launch the affiliate program please use the contact us form for more detailed information.
What's Included with our service?
1. Google Adsense Revenue Sharing.
2. Automatic submission of all future blog articles.
3. Automatically fills in the title, description and tags.
4. Automatic hourly or daily updates searching for your blogs new content.
5. Automatically submit one or multiple articles per RSS Feed Update.
6. One free vote with all RSS Feed articles submissions.
7. Do follow backlinks from every submitted blog article.
8. Create your blog profile and start building brand awareness immediately.
SEO and Other Benefits:
1. Automatically create do follow backlinks for every article you write.
2. Increase your SERP on all Search Engines.
3. Grow your reader base with our real community members.
4. Increase your overall blog traffic.
5. Gain more readers for your blogs content.
Be sure to add me as a friend, bbrian017
Twitter, bbrian017
Thanks,
Brian